Big Shot Bob's in Bloomfield!
The Deal
Big Shot Bob's Bloomfield
A $25 Voucher for Only $12.50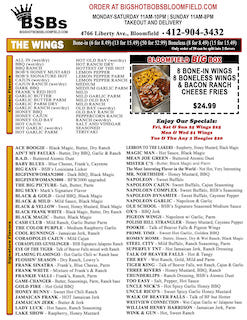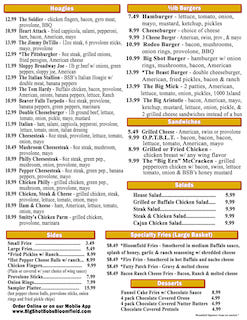 Deal Restrictions
How many deals can I purchase? 1
Can be used at other locations? NO
Cash/Credit back for unused portion? NO
Use more than one deal voucher per visit? NO
No cash value.
Tax and gratuity not included
Not refundable.
Big Shot Bobs House of Wings (Bloomfield)
At Big Shot Bobs House of Wings, you can find a variety of menu items such as Chicken Philly Hoagie, The Big Ern" McCracken Sandwich, The Soldier Hoagie, Wings, and more! We are located on Liberty Ave.
Map:
Click here for map
Website:
Click here for website
Print Your Deal Vouchers Now / e-delivery
This deal allows you to purchase and use the deal vouchers immediately with digital delivery. You may print the voucher from your own printer or open using smart device to redeem by using the mobile application.
If you have a printer problem and are unable to print your purchase for any reason, please email
customerservice@neofill.com
. Please do not reorder your deal vouchers.