Catering from Will-Onita's Family Restaurant!
The Deal
Half price Catering from

Will-Onita's Family Restaurant

!
A $300 value for just $150!
---
Call to inquire: (724) 392-4114
You can find the Catering Menu Here!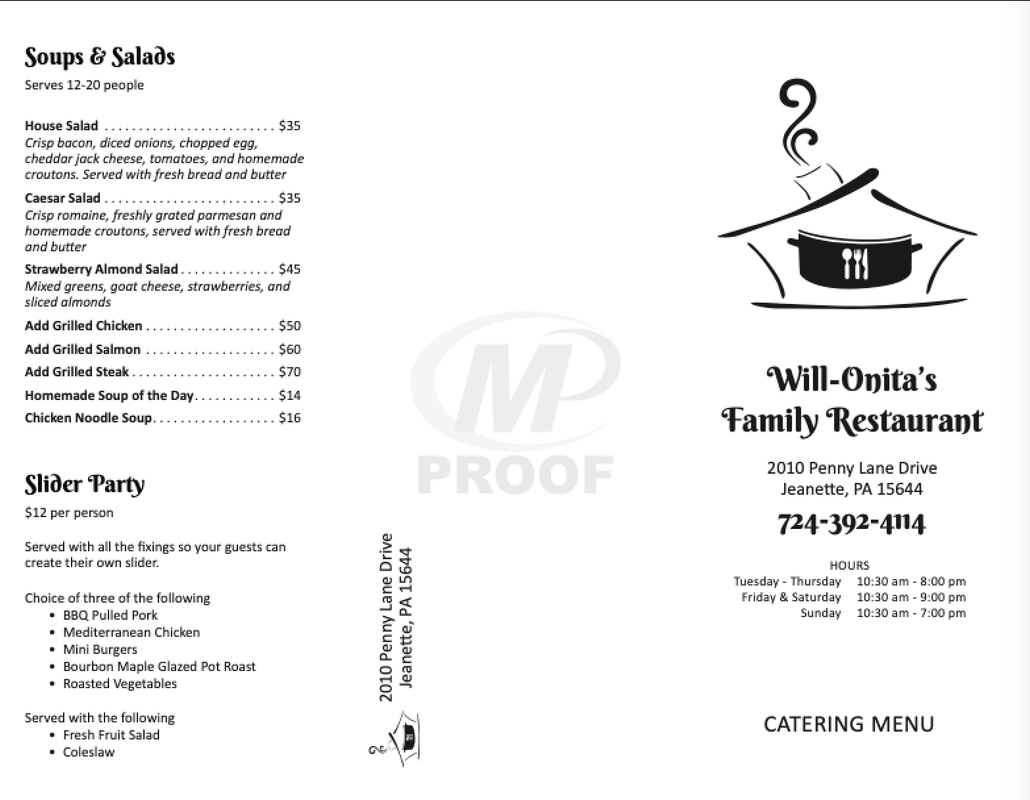 Deal Restrictions
Cash/Credit back for unused portion? NO
Use more than one deal voucher per visit? NO
No cash value.
Not valid with any other promotion
Tax and gratuity not included
Voucher valid for catering only.
Not valid on a previous order.
Catering may not be available around holidays. Please call Will-Onita's before purchasing voucher to ensure availability.
Map:
Click here for map
Website:
Click here for website!
Print Your Deal Vouchers Now / e-delivery
This deal allows you to purchase and use the deal vouchers immediately with digital delivery. You may print the voucher from your own printer or open using smart device to redeem by using the mobile application.
If you have a printer problem and are unable to print your purchase for any reason, please email
customerservice@neofill.com
. Please do not reorder your deal vouchers.
Customer Reviews
Ray S. reviewed on May 7th, 2023
Someone needs to update their information. I used the catering menu provided by just pay half to order food. My father picked up the food yesterday to bring to our party and informed me that it cost an additional $230+ dollars on top of the $300 just pay half voucher. When I ordered the food, I had ordered enough to meet my $300 credit. In fact I ordered more food than needed because I wanted to use all of my voucher. Since our party happened to only be 5 minutes away from our picnic, I decided to stop into wil onitas after the party to try and find out why our order cost so much more than expected. I was made to feel as if I were crazy for using the catering menu provided by just pay half (which is labeled as will-onitas.com). The prices on their newer menu of some of the items had doubled from the menu provided to me through the voucher. Also there was an 18% gratuity added to the total which I wasnít aware of. Ok the gratuity I can look past but donít fully understand. 18% tip for takeout? But ok thatís fine. My issue is that the menus arenít updated and I had ordered a tray of Mac and cheese for $40 not $80, full size pasta salad for $40 not $80, a half order of pasta salad for $25 not $40 and chicken florentine for $80 and not $100. Itís a shame to spend this much extra money as like I said I had ordered to meet my $300 credit provided by the prices I was provided. Half of the food ended up coming home and will eventually be tossed. I would like some feedback from someone who can try to make this right.
---