Used Student Instruments from Brighton Music Center!
The Deal
50% off on used student instruments!
Check the list below for full details on all instruments available.

All of the instruments featured below have been hand selected from our stores and are ready for their next home!
Each instrument is a Student grade model and is pre-owned. They have been meticulously cleaned and disinfected, refurbished, and are in tip top performance shape. With more students learning from home than ever before, channeling some of that excess energy into learning a new instrument may be the perfect opportunity to turn some of that free time into a new hobby or even a potential scholarship down the road!
All instruments are used instruments. These are name brand instruments that have been cleaned and serviced by our in house technicians. These have all been cleaned and disinfected for safety. All parts of the instruments are included, except for supplies for cleaning and maintenance.
Potential customers are encouraged to reach us at our North Hills location to inquire about individual pieces and/or ask questions about instrument care, lessons, etc. prior to purchasing deal (412) 821-5908 and mention this JPH Deal.
---
Eastman EEP321 Euphonium Horn: Student 3 Valve Euphonium. Upright bell with 3 top action pistons. Brass instrument with mouthpiece and case. There are brass plating issues and wear on this model. In great playing condition.
​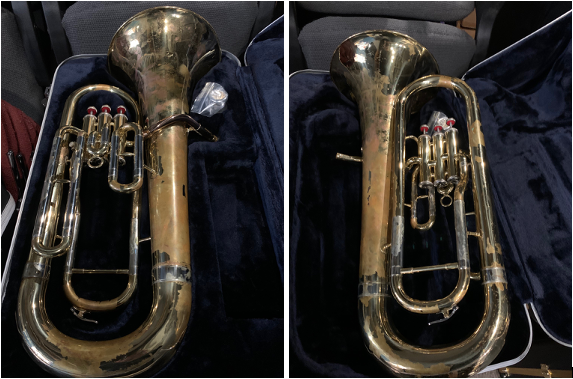 Eastman EBH311 Baritone Horn: 3/4 size (small bore) Student 3 Valve baritone. Upright bell with 3 top action pistons. Brass instrument with mouthpiece and case. There are brass plating issues and wear on these model. In great playing condition.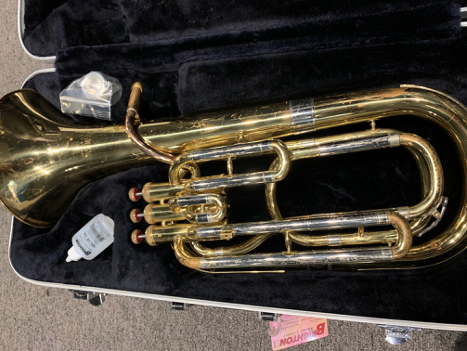 Blessing BTB1280 Trombone: Student tenor trombone built for economy and durability. Brass plated with a single handslide. Brass instrument with mouthpiece and case.
​
Yahama YTR2320 Trumpet: Student 3 valve trumpet, Brass instrument with mouthpiece and case.
Armstrong 104 Flutes: Student model flutes made of nickel and plated by silver. C foot student model with case and cleaning rod.
​
Vito 7212 Clarinets: Student model Bb Clarinet, ABS resin body, nickel-plated silver keys, 65mm barrel. Woodwind instrument with case and mouthpiece, mouthpiece cap and ligature. Reeds are not included with Clarinets.
---
Located off of Babcock Boulevard in North Hills, this Brighton Music Center location is know for it's customer service and satisfaction since 1975. This location services many different school districts in the surrounding Pittsburgh area. With being located right off of I-279, the store is extremely easy to travel to! Only a 5-minute drive from downtown is keeping you from finding your perfect instrument of choice. This store features a warehouse-like space, but designed for ideal music-retail. Highlights of the store include an all-acoustic room, amp room, lesson areas, as well as a PA/Stage room where many clinics and concerts are held throughout the year. In this building is also our repair shop, where you can stop in and meet our repair staff!
Give us a call at the North Hills location at (412)821-5908
---
The New Brighton location, located on 1015 Third Avenue in New Brighton, Pennsylvania has been in business since 1962. This location services school districts expanding into counties Beaver, Allegheny, Butler, Mercer, Erie, Washington, as well as Ohio school districts. Located on the main street of New Brighton, it is a perfect place to spend your afternoon exploring the store as well as many other local businesses! There are two sides to the sales floor featuring band & orchestra, guitars, PA equipment, keyboards, percussion, as well as an amp room. Upstairs, there are several studios for lessons that take place during store hours. If you have any instruments that need repaired, we take daily trips to and from our repair shop at the North Hills location.
Give us a call at the New Brighton location at (724)843-9380
Deal Restriction(s)
Please select an option to see the restrictions.

At Brighton Music, we strive to maintain a very high level of professionalism & know that today's beginning students may be tomorrow's professionals. For this reason we have tailored our rental program to help ensure the best opportunity for your child's success. We offer a unique band and orchestra rental program with all instruments being high quality, name brand, and professionally inspected.

Map:

Click here for map

Website:

Click here for website

Print Your Deal Vouchers Now Promotion: This deal allows you to buy and use the deal vouchers today with immediate digital delivery of your deal voucher to your home or office printer!

Print Your Deal Vouchers Now Support: If you have a printer problem and are unable to print your purchase for any reason, please email

customerservice@neofill.com

. Please do not reorder your deal vouchers.